STATEMENT TO PARISHIONERS
THE BENEFICIARIES OF ST. BRIAVELS ASSEMBLY ROOMS
Many of you will be aware from our previous communication (see attached) that your Assembly Rooms, and the unpaid volunteers who run them on your behalf, are suffering from severe hostile activity from individuals who are not resident in the village, and are commercial landlords based in Lydney.
Since recently purchasing the adjacent 1 and 2 Townsend Cottages as 'buy-to-let' rental properties, the landlords have barricaded a number of original historic access routes and doorways, including emergency exits and the disabled ramp. They are also attempting to take over the courtyard, and lay claim to parts of other SBAR buildings, clearly seeking to increase the value of their rental properties.
The access routes and original doors in and around the Reading Room have been in existence and public use since at least 1856, when it was opened as a public library, with a single public toilet attached at the rear, through the archway. Today, however, you will notice that the Reading Room is currently inaccessible due to a series of fences, gates and intermittent chains and padlocks. This part of our collective community buildings has effectively been closed down for use of any kind by the Lydney landlords, including much needed renovation as it falls into a dilapidated state.
Trustees and volunteers (including senior citizens) attempting to approach any of the 4 doors into the Reading Room building have been harassed and threatened, which is a matter of Police record.
These landlords have also conducted a protracted campaign of nuisance and intimidation including serious threats of violence, barricading people inside the Assembly Rooms with our own bins, smashing down our feature stone courtyard wall with a sledgehammer whilst young mothers and children were inside (photos attached), and vandalising the fire exits.
Since this hostile campaign began in 2014 (2 years after they purchased 2 Townsend Cottages), our Trustees have endeavoured to investigate the justification of the Lydney landlords to suddenly shut off these accesses and feel entitled to land that is not on their deeds. After many efforts on our part to resolve the matter peacefully, our final attempt at mediation failed when they reneged on agreements. Sadly, this left the Assembly Rooms Trust no alternative course of action other than to issue proceedings on behalf of our community, to resolve the matter in High Court.
However, please remain assured that as Trustees of a public building who are legally bound to protect it on behalf of parishioners, we are acting entirely under professional advice from all of the relevant authorities. This includes the Charity Commission, the Land Registry, specialist solicitors, surveyors, our insurers and the Police. Although the Trustees have the authority to do so for the protection of parishioners and the Trust, no charitable funds have been used to pay our legal fees.
Many thanks to all those who have already participated in the previous appeal for information and witnesses. It is not too late to add your contributions should you wish. Around 90 individuals have already been identified who could provide testimony to the legitimacy of SBAR's rights and property.
Thanks also to those of you who have brought to our attention a recent 'open letter' to parishioners from the commercial landlords, Peter, Tracy & Robert Morgan of Lydney, who have engineered this situation. We can confirm that its contents are incorrect, misleading and disingenuous in purporting that they have been cooperative and transparent; indeed, the opposite is true and can be evidenced. It is our view that their letter is a PR exercise in an effort to garner support and distract from their malevolent conduct to date, whilst striving to take over parts of our community buildings and extinguish historic rights belonging to the public.
Threatening to cut the throats of Trustees, smashing down the Courtyard wall, and barricading parishioners inside the Assembly Rooms, can hardly be dismissed as lightly as a 'deteriorated situation' as they describe it, in an attempt to excuse themselves.
All evidence will be examined in court in the coming months, should the Morgans not return the unrestricted rights of way back to the Trust for the use of the parishioners. We shall of course report back accordingly in due course, on the outcome.
The Trustees. St. Briavels Assembly Rooms (27th April 2018)
EVIDENCE OF BARRICADING OF THE PUBLIC READING ROOM AND ASSEMBLY ROOMS: -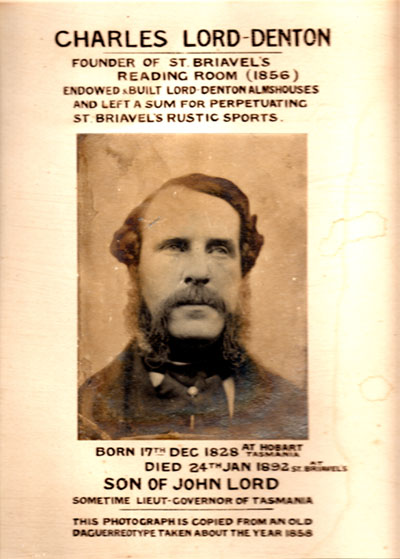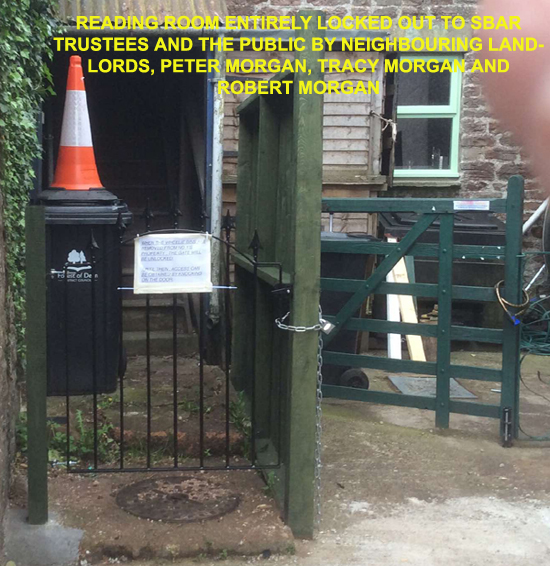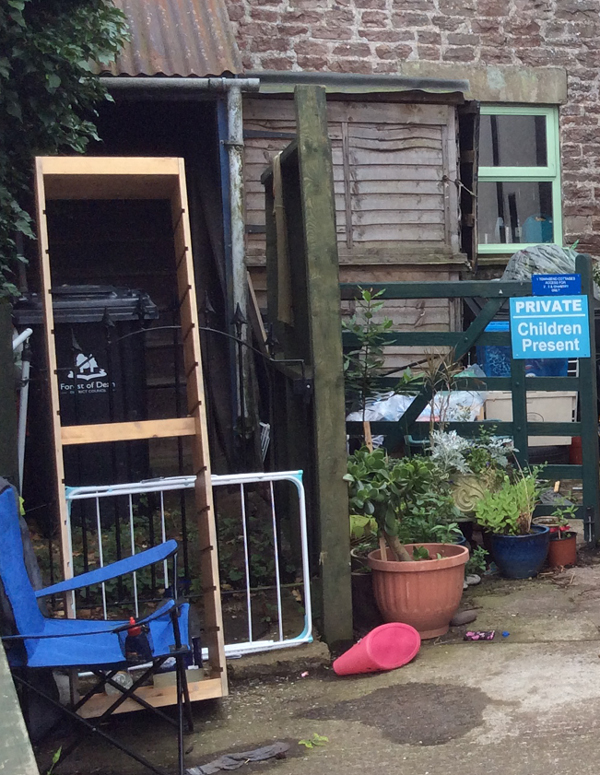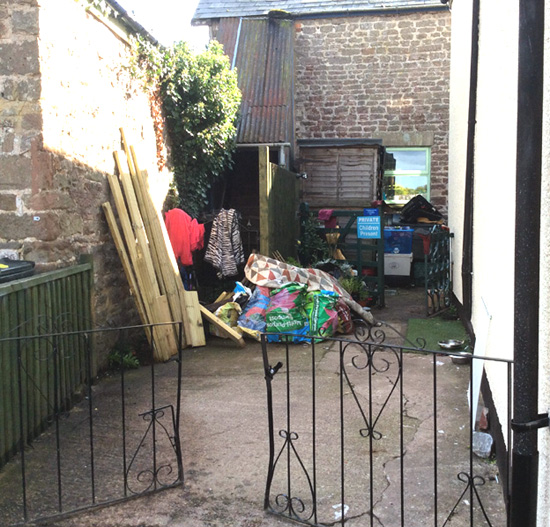 CAR BLOCKING READING ROOM STAIRS; BINS USED TO BLOCK DISABLED RAMP; READING ROOM PASSAGE IMPEDED WITH GATE AND CLUTTER: -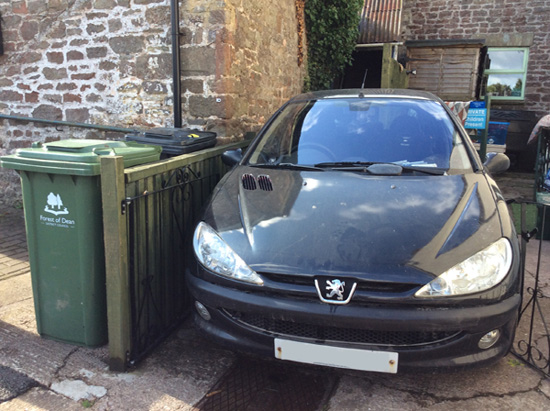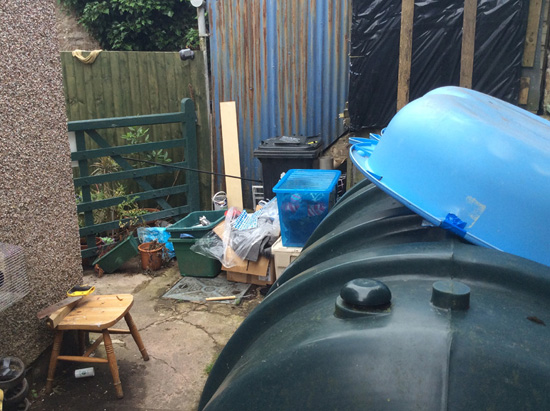 READING ROOM REAR PASSAGE ENTRANCE BLOCKED WITH LOCKED GATE:-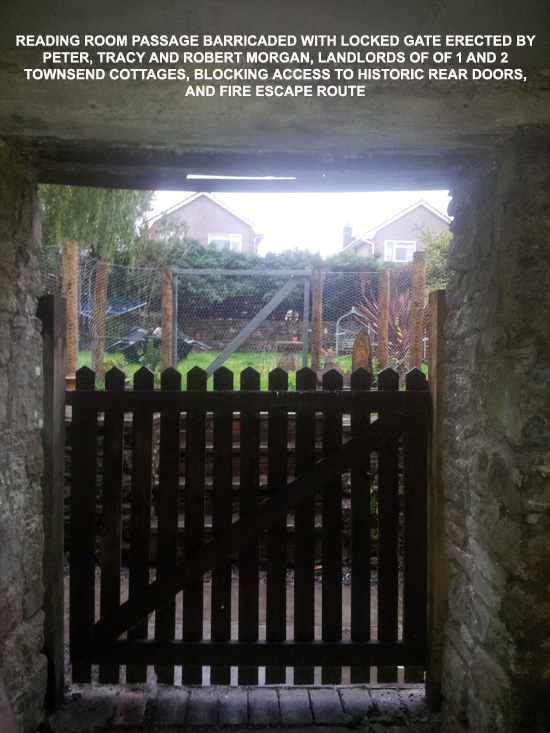 RESTORED REAR READING ROOM DOOR, BEFORE BARRICADED WITH FENCING AND AFTER:-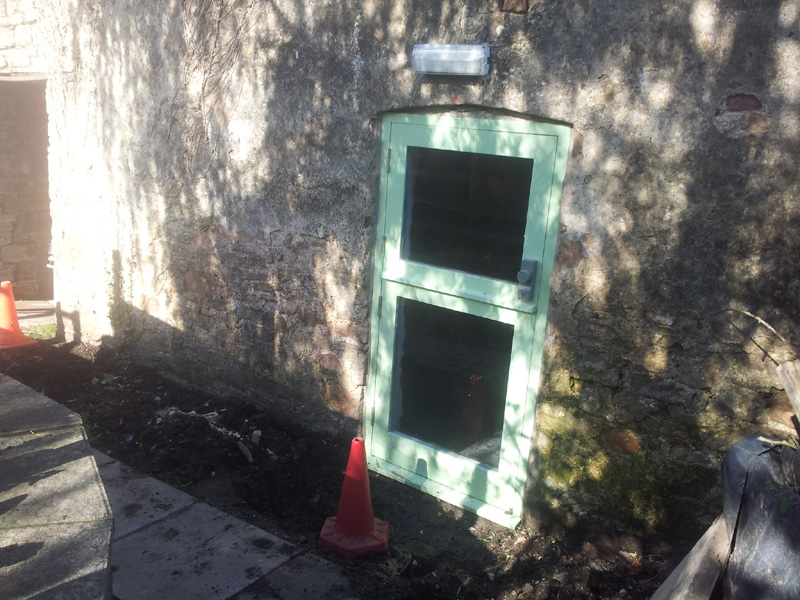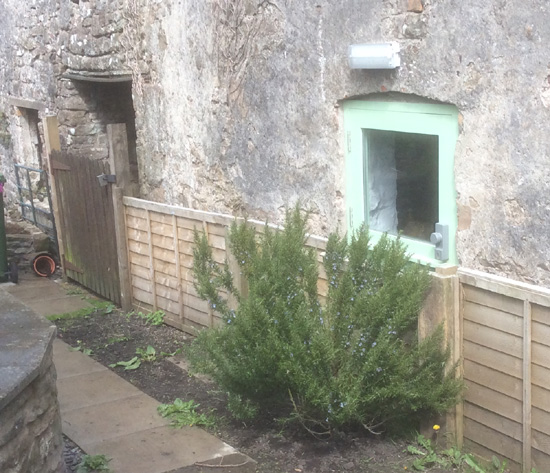 LATEST HIGHER FENCE PANELS BLOCKING DOOR, AND ORIGINAL REAR DOOR APERTURE EVIDENCE DURING RENOVATION, DENIED AS EXISTING. BARRICADED WITH STONE COLUMN: -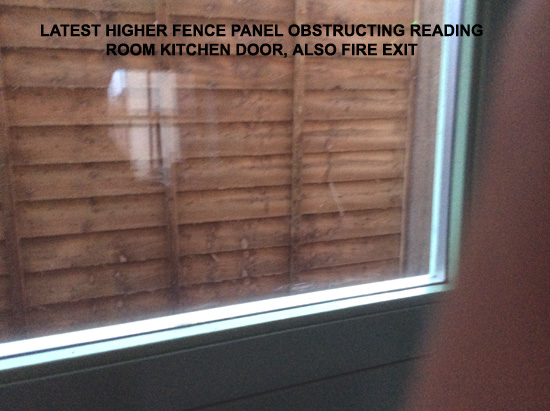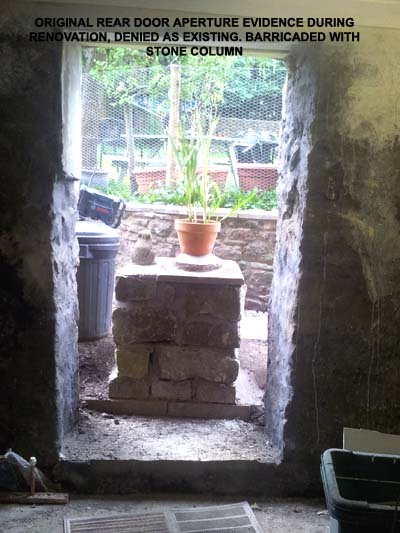 READING ROOM REAR PASSAGE ACCESS BARRICADED BY PADLOCKED GATE. COURTYARD GATE AND ASSEMBLY ROOMS REAR ACCESS FENCED IN. SITE OF OLD READING ROOM TOILET FENCED OFF DURING RENOVATION WHEN SITE CLEARED (note roofline of toilet building, which was annexed between the Reading Room and Snooker Room, with a window into Reading Room) -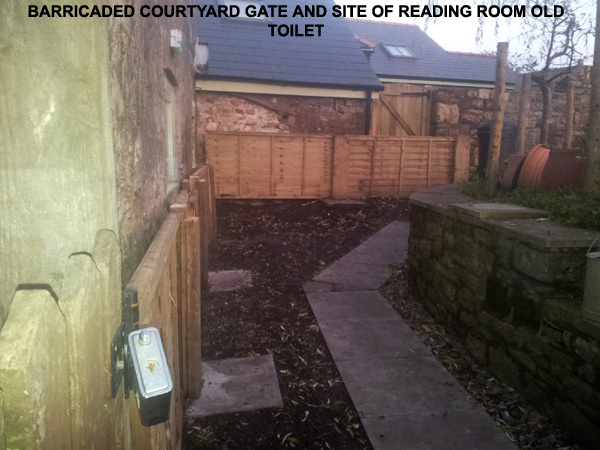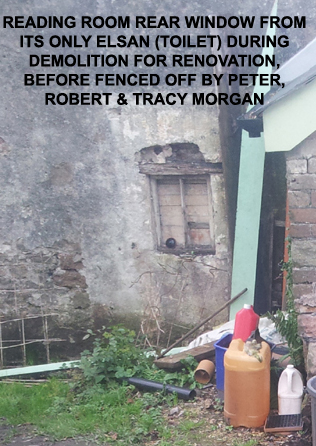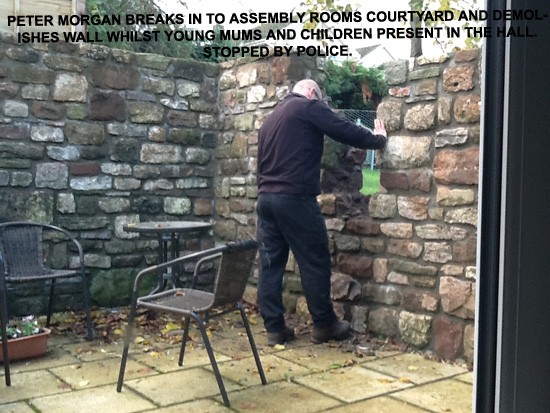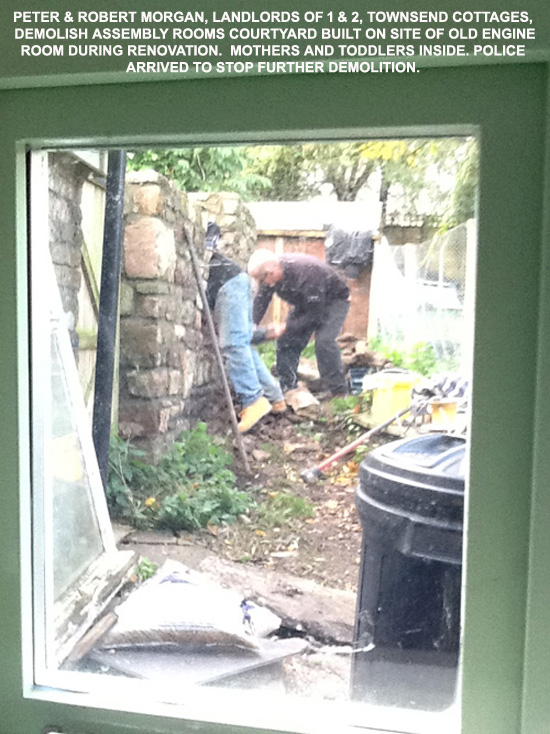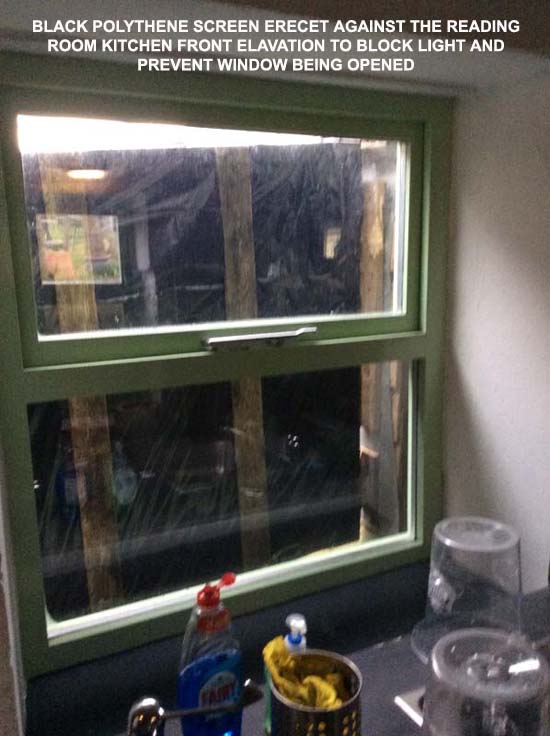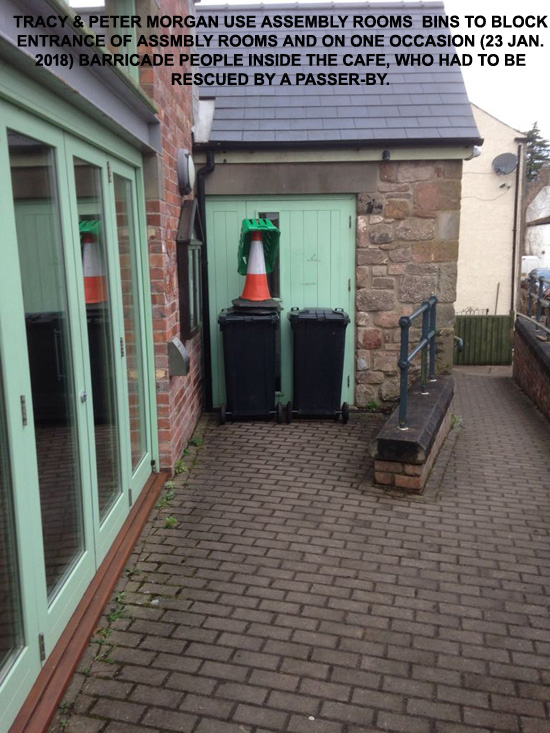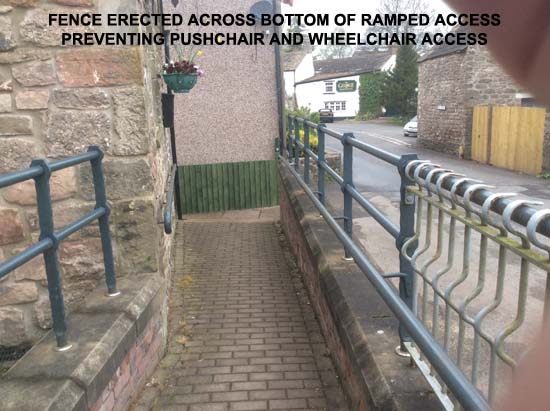 IMPORTANT APPEAL FOR INFORMATION: (SEE MAP BELOW): -
The local volunteers who run and protect your Assembly Rooms and Reading Room need your help. Just 10 minutes of your time could help preserve your community buildings and their full usage and rights of access.

As many are now aware, the Assembly Rooms are suffering from some hostile activity which has involved the recent barricading of some of the doors and accesses and rights of way with fences, gates & chains. This includes some fire exits and emergency escape routes around the buildings - and being cut off from our Reading Room, preventing any access whatsoever by thre public, or its restoration.

These routes have been in existence and used by the public since 1856, when the Reading Room was opened as a public library, and from 1928 when the Assembly Rooms were built and donated to the parishioners for public use.

Our trustees have been working very hard with the assistance of our insurers and specialist solicitors to resolve this and defend the Assembly Room on your behalf - but we also need the help the parishioners to provide information.

All we need, to be able to unblock and re-establish our rights of way, are witness statements to verify usage of these routes to access our buildings over the years.

Please can you help? However small or insignificant you think it is - every piece of evidence fits into a bigger jigsaw of a number of other statements, which collectively cover a long passage of time over all routes.

Please study the questions below and look at the map with the 4 routes illustrated on it. If you are happy to assist with information, then please email your answers to trustees@st-briavels.com.
1) Which of the routes A, B, C, D have you ever used, have knowledge of others using?

AND THEN, FOR EACH ROUTE USED: -

2) For what purpose? (see long list of known activities below, to jog your memory)
3) How frequently? (even one-off times can count, or once a year for instance)
4) During what years? (from as long ago a you remember, up to today all valuable)

EXAMPLE: I used Route A to access the original kitchen under the Reading Room from 1975 to 1985, when I used to help with the catering for the dances and he OAP's Christmas Dinner.

And that's it. That's all we need!

So please, please take just 10 minutes to help us to protect YOUR public buildings and rights of way, and forward this to others who you think might be able to help.

Many thanks.

The Trustees
St. Briavels Assembly Rooms

Registered charity: 1124367
St. Briavels Assembly Rooms Ltd
Registered charitable company: 6558465

E: trustees@st-briavels.com
W: www.st-briavels.com

All proceeds towards St. Briavels Assembly Rooms.
Run By The Community, For The Community.

P.S. There are a host of references to various activities in the minutes books. Here are some that that might jog your memory?: -
Snooker
Kids annual school photos & playgroup photos taken in Reading Room
Parish Council Meetings (especially when they were held in the Reading Room)
Slimming Club/s (i.e. 'Silhouette', run by Liz Charlton in the Reading Room)
Sunday School (run by Mr. Hart in the Reading Room circa 45 - 50 years ago)
OAP Christmas suppers & meetings
Whist drives followed by dance ( just after war. 1947 - mid 1960s at least, run by Bert Jones & Charlie Addis)
Bingo (Reading Room 45 - 50 years ago, run by Harry Burley, for at least 4-5 years)
Playgroup
Parent & Toddlers group
Scouts / Brownies / Guides
Youth Club / Table Tennis
W.I.
Mother's Union (Late 1940s - late 1960s?)
Dog training
Other meetings (action against quarrying, etc)
Jumble sales
Mike Parry's Coffee Mornings
Exhibitions
Pantomime (circa 1947 for many years and through the war, prior)
Dances / Parties / Receptions
Maybe you were a previous Parish Councillor, Assembly Rooms trustee, or contractor of services who took care of maintenance or building work? Checked the fire exits, etc?

Many Thanks.
MAP OF ROUTES:
(Statement have also ben received regarding passage around the entire west perimeter of the Reading Room, from either end of the Waggon Arch (passage way) under the Reading Room. ie. past 'Old Reading Room Cottage' where Mrs. Burley lived, and at the rear of Townsend Cottages, made possible by demolition of 4, Townsend Cottages in the 1960s. Any such further information other than the routes shown on the map is welcome.